Sep 23, 2021
Guide to the new recreational craft directive for manufacturer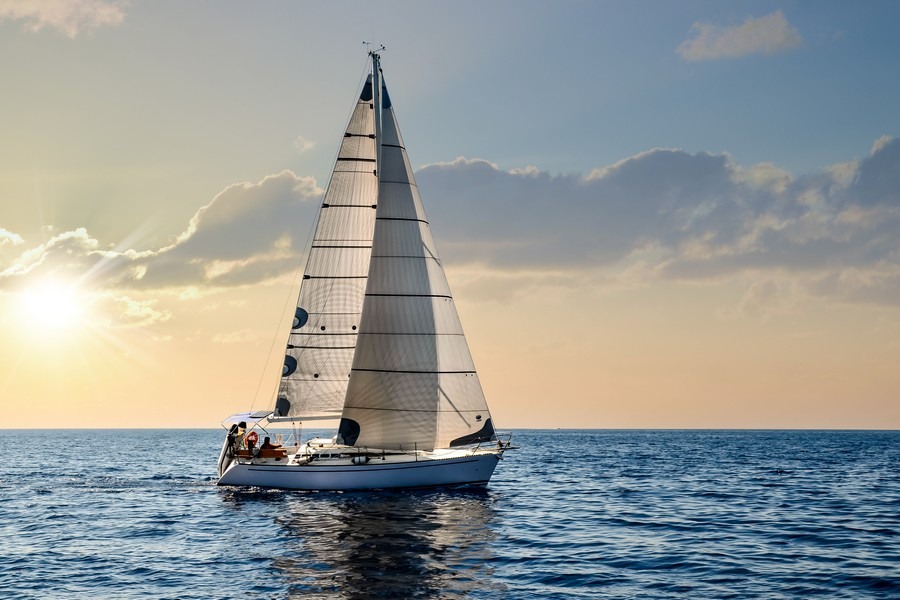 In the European boating industry , France leads the way in sailing boat, catamarans and ranks second in the world. To stay on track, boat manufacturers must provide safe and secure pleasure boats that ensure safety and protection for boaters. To this end, there are design standards that engineers and technicians must complies. Harmonized at the European or even global level, they guarantee a safe design of pleasure boats.
Discover them in our guide!
EU Standards for recreational boat manufacturing
The Directive 94/25/EC (as amended by EU directive 2013/53/EU) contains all necessary measures to ensure that the products may be placed on the market and put into service for use in accordance with their intended purpose only if they do not endanger the safety and health of persons, property or the environment when correctly constructed and maintained.

- The EU Declaration of Conformity (DoC). This document stating that the product satisfies the essential requirements of the Directive. By drawing up the Declaration, the manufacturer, the private importer or the person adapting the engine (Article 15.3) assumes responsibility for the compliance of the product. The Declaration must always accompany the watercraft (boat and personal watercraft). The Declaration accompanies the owner's manual for watercraft and engines.
- Owner's manual: All watercraft (i.e. boat and personal watercraft) must always be accompanied by an individual owner's manual, in a language that can be easily understood by consumers and other end users. The owner's manuals must always be accompanied by an important legal document called the EU Declaration of Conformity. The harmonized standard EN ISO 10240 gives details on the content of the owner's manual.

To obtain it, the products shall meet essential requirements for safety, health, environmental and consumer protection. In first place of the Directive's essential safety requirements for the design and the construction of craft are four boat design categories, defined this way:
A. OCEAN: Designed for extended voyages
a. Wind force may exceed 8 (Beaufort scale)
b. Wave heights of 4 m and above but excluding abnormal conditions, and vessels largely self-sufficient.
B. OFFSHORE: Designed for offshore voyages
a. Wind force up to 8
b. Wave heights up to, and including, 4 m
C. INSHORE: Designed for voyages in coastal waters, large bays, estuaries, lakes and rivers
a. Wind force up to 6
b. Wave heights up to, and including, 2 m
D.SHELTERED WATERS: Designed for voyages on sheltered coastal waters, small bays, small lakes, rivers and canals
a. Wind force up to 4
b. Wave heights up to, and including, 0,3 m
c. Occasional waves of 0,5 m maximum height

Design of recreational boats : Standards to comply with
There are almost two hundreds ISO standards dedicated to "small craft" industry. Every 5 years these standards are reviewed. These standards concerns the design, the construction, the installation for small craft from 2,5m to 24m.


Focus on some "small craft" ISO Standards dedicated to electrical, fuel, steering systems.
ISO 10087:2019 Small craft — Craft identification — Coding system
This document establishes a coding system to achieve identification of any small craft in terms of:

- identification code of the country of the manufacturer of the craft
- identification code of the manufacturer
- serial number
- month and year of manufacture
- model year.

It applies to small craft of all types and materials, of hull length, LH, up to 24 m.
ISO 8846:1990 Small craft — Electrical devices — Protection against ignition of surrounding flammable gases
This International Standard describes test methods and requirements for the design of electrical devices to be used on small craft so that they may be operated in an explosive atmosphere without igniting surrounding flammable gases. For US market the SAE J1171 recommended practice covers all electrical devices suitable for use in marine engine compartment and fuel tank spaces.
ISO 8849:2020 Small craft — Electrically operated bilge pumps
This document specifies requirements for electrically operated bilge pumps intended for use in removing bilge water. It applies to:
- direct current (DC) bilge pumps which operate at a nominal voltage not exceeding 50 V
- single phase alternating current (AC) bilge pumps which operate at a nominal voltage not exceeding 250 V.
ISO 8469:2021 Small craft — Non-fire resistant fuel hoses
This document specifies general requirements and physical tests for non-fire-resistant hoses for conveying petrol or petrol blended with ethanol, and diesel fuel or diesel fuel blended with FAME, designed for a working pressure not exceeding:

- 0,34 MPa for hoses with inner diameter up to and including 10 mm
- 0,25 MPa for hoses up to 63 mm inner diameter in small craft.

It applies to hoses for small craft with permanently installed fuel systems.

ISO 10133:2012 Small craft — Electrical systems — Extra-low-voltage d.c. installations
This international Standards establishes the requirements for the design, construction and installation of extra-low-voltage direct current (d.c.) electrical systems which operate at nominal potentials of 50 V d.c. or less on small craft of hull length up to 24 m. Conductors that are part of an outboard engine assembly and that do not extend beyond the outboard engine manufacturer's supplied cowling are not included.
ISO 8665:2006 Small craft — Marine propulsion reciprocating internal combustion engines — Extra-low-voltage d.c. installations
This International Standard specifies the requirements additional to ISO 15550 for determining the power of marine propulsion reciprocating internal combustion (RIC) engines when presented for documenting and checking of the declared (rated) power published by the manufacturer.
This International Standard applies to engines used for propulsion of recreational craft and other small craft of up to 24 m hull length.
ISO 10105:2000 Small craft — Ventilation of petrol engine and/or petrol tank compartments
This document specifies requirements for the ventilation of petrol engine and petrol tank compartments in small craft having petrol engines for propulsion, electrical generation or mechanical power, to prevent the accumulation of explosive gases in these compartments. Personal watercraft are not covered in this document.
ISO 8848:2020 Small craft — Remote mechanical steering systems
This document specifies design, construction, installation and test requirements for remote mechanical cable steering systems and the output ram interface point to rudders, jet drives, outboard and sterndrive engines for small craft.

It is applicable to three distinct classes of steering systems for use on various types of pleasure craft:
- standard duty steering systems, for small craft with single and twin installations of outboard engines with a total over 15 kW power, and with rudders, sterndrives, and water-jet drives
- light duty steering systems, for small craft with a single outboard engine of 15 kW to 40 kW power
- mini-jet steering systems, excluding personal watercraft
The importance of Type Approval to pleasure craft over 24 meters length
Pleasure boats (motor yachts) longer than 24 meters may be subject to other standards, especially if they will be used for charter. In this case a marine TA (Type Approved) equipment could be used. Type Approval is a systematic procedure used to confirm that a product type is in conformity with a set of pre-determined requirements.
The requirements are based on DNV's Rules for Classification of Ships, High Speed and Light Craft and DNV's Offshore Standards. All parameters such as temperature, humidity, vibration, EMC and enclosure will be defined to the highest quality standards.

Expert in marine electrical devices, Dolphin ® Charger has designed a range of "ProLite" chargers dedicated to center console boats, sport fishing and RIB's. Features includes waterproof (IP65) casing, ignition protected (ISO8846) certification , fan-less technology and Bluetooth connectivity. From our office based in Annecy (France) Dolphin ® Charger will be pleased to assist you in any specific project in power conversion system.
Discover our offer on https://www.dolphin-charger.com