Jun 16, 2022
Brazil: why Innova Marine chose to distribute Dolphin Charger products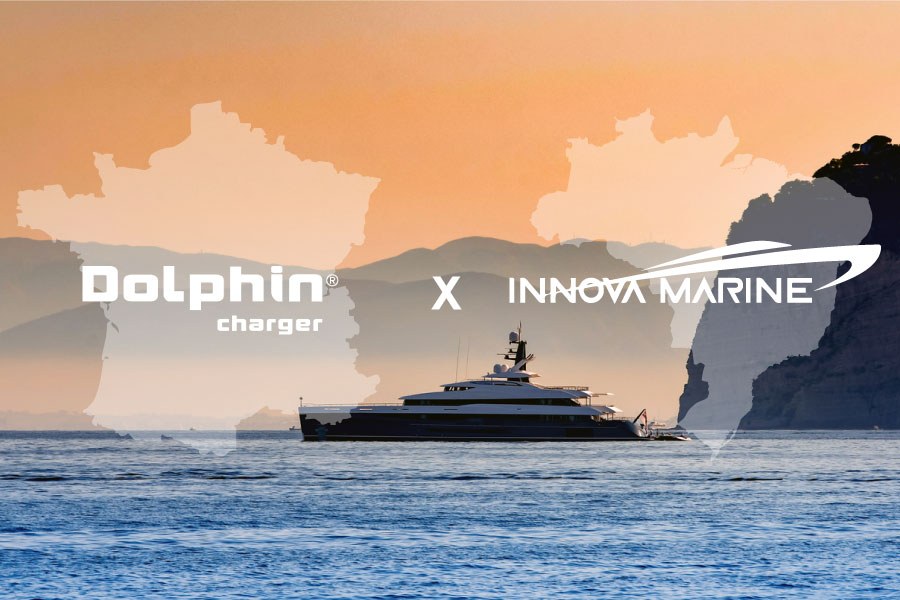 Established in 2019 in Brazil, Innova Marine is one of the companies of MX Marine Group. Specializing in providing equipment and services to major Brazilian shipyards and end consumers, Innova Marine is the exclusive distributor in Brazil of Quick MC2 gyro stabilizers and Satsys satellite TV antennas. In order to meet the demand of its customers, Innova Marine wanted to enrich its catalog of battery chargers. It chose Dolphin Charger for the quality of its products and the responsiveness of its teams. A look back at a successful collaboration.
Innova Marine: privileged partner of shipyards
Azimut Brazil, Intermarine, Okean Ferretti, Schaefer, Sessa, Focker, Flexboat, FS, NHD... Brazil has many boat builders from 15 to 140 feet. Automation systems for displays, long-range night vision cameras, surveillance systems, LED floodlights, marine monitors... For special products, shipyards can count on Innova Marine, which also manufactures chillers, self-contained air-conditioning systems and watermakers. Specializing in recreational boats, the Brazilian company also provides engineering and technical service to shipyards. In addition to its technical team, Innova Marine relies on a network of highly specialized outsourced services. Recently, the company has significantly increased its market share, especially in the gyro-stabilizer market. To continue this growth, Innova Marine has sought to enrich its catalog by offering battery chargers. This expansion of the range also met a demand from shipyards for more options.
Dolphin charger: quality products that have won over the Brazilian market
After consulting with shipyards and its partners about market needs, Innova Marine selected several battery charger models. The Brazilian company was primarily looking for:

- Technical support on charger sizing
- NMEA 2K connection to Garmin/Raymarine/Simrad displays to show battery charger information
- A parallel connection (2 chargers working together)
- Installation and service manuals, so that the equipment can be repaired if necessary.

Beyond the technical aspect, Innova Marine was also looking for a reactive, available and serious partner. Dolphin Charger met all these criteria. "I was looking for a recognized manufacturer of battery chargers. Dolphin is one of the companies with a great reputation. The 4-year warranty shows Dolphin's confidence in its products," recalls Marcelo Viana, director of Innova Marine. A UK Council/ IET, Engineers Australia, and APEC registered engineer, Marcelo Viana is responsible for all technical matters at Innova Marine. With 20 years of experience in the marine industry, he chose to distribute Dolphin Charger products: "Dolphin offers an interesting range of battery chargers. The inverters were an excellent addition to the range. Since we also install AC gyro-stabilizers connected to the batteries (boats without generators), the inverter solution was great.



Why Dolphin Charger more than any other manufacturer? Because of the 4-year warranty and the quality of the materials used to manufacture the equipment. "Since Dolphin products have a good reputation and a 4-year warranty, I thought this was an interesting opportunity to take market share from major competitors like Quick, Mastervolt and Xantrex. Since it is a stand-alone product, it was not difficult to add it to the line. It was an excellent addition to our catalog," says Marcelo Viana.

After 2 months of collaboration, some of Innova Marine's partners have already installed Dolphin chargers and have reported their good impressions. With this new partnership, Innova Marine intends to give Dolphin products a prominent place at the Sao Paulo Boat Show - the main Brazilian boat show - in September 2023, as well as in its 500 m2 megastore that will open in July.