Sep 27, 2022
Marine engineering: Three environmental issued to be met by 2030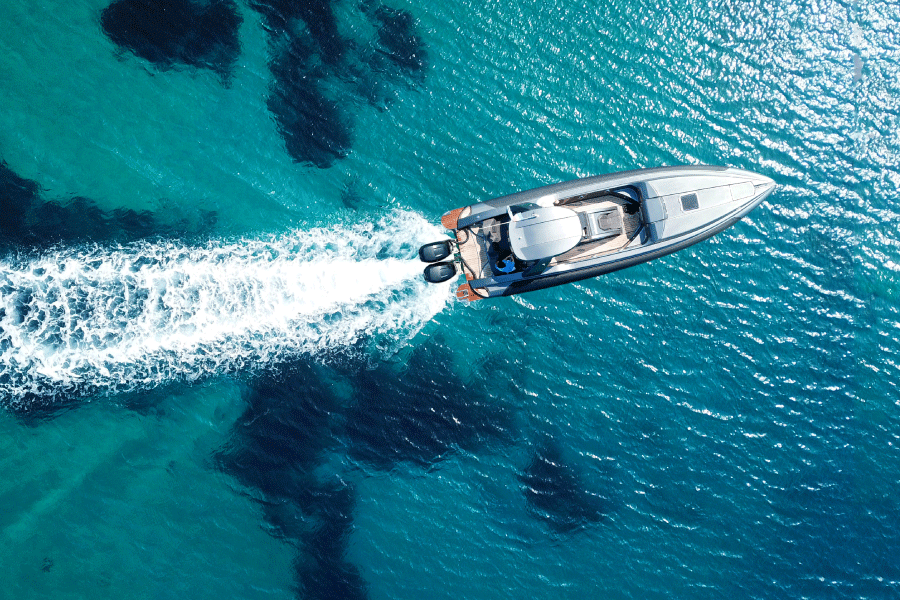 A growing number of electrically-powered boats, eco-design of vessels, recycling and dismantling of wrecks... The yachting industry is constantly on the move and is currently experiencing a green groundswell. Here is an update on the main developments in terms of design.
1. Diesel or gas engine powered boats are moving towards electric propulsion
Unlike the automotive industry, there is no deadline for the ecological transition in the yachting sector. However, all players are working on solutions to offer "cleaner" boats in terms of propulsion.
A regulatory motivation
In inland waters, for river or lake navigation, combustion engine have been prohibited for several years. This restrictive regulation has pushed manufacturers to find solutions to be able to continue to navigate, while complying with the regulations.
As far as sea navigation is concerned, regulations have been put in place for tenders. Historically equipped with gas engines of 3 to 5 horsepower, these small semi-rigid boats are now almost all equipped with electric motors.

It is also worth noting the ban on combustion engines in certain protected areas, such as national parks. To be able to continue sailing in these areas , boats are equipped with hybrid solutions, allowing them to switch to all-electric once in the area, and to start again on diesel engines as soon as they leave. This solution is appropriate for passenger transport and boats up to 25m.

Initially motivated by a regulatory aspect, the switch from combustion engine to electric power is now proving interesting in several respects. From a practical point of view, electric power means no need for a gas tank and quieter boats.
Hybrid solutions for large motorboats
For larger boats, the changeover is more difficult. While for sailboats and catamarans, many players offer reliable solutions for replacing the combustion engine with electric motors, the operation is more complex for large motor boats with a length more than 40 foot approx. On these boats, where the power involved is huge with several hundred horse power, having an electric motor means carrying a lot of heavy battery in order to have enough energy reserves to be able to sail. Therefore, the trend for large motorboats is to use hybrid solutions, via pods. In this case, the boat is equipped with electric motors powered by diesel or gas generators.
The importance of more power available from ports and marinas
More and more solutions are being proposed for boats sailing one day , as they are able to stock enough energy to run all electrical appliances during the day and return to port in the evening. However, this mode of operation implies that the boat can get enough shore power capacity when it returns to port, in order to recharge its batteries. However, this is far from being the case everywhere! While the major ports on the Côte d'Azur offer 63 A shore power socket , the vast majority of marina electrical equipment are limited to 16 or 32 A, which does not allow for the fast recharging of very large batteries bank in a few hours.

Aware of this problem, the battery charger specialist Dolphin Charger has initiated exchanges with companies involved in the development of marinas and ports equipment , to think about fast charging solutions in a marine environment.
2. Limiting the environmental impact of boats by taking into account ecodesign
Fiberglass, resins, dyes... Historically, boats have been designed using materials from the oil industry and fossil fuels. In an eco-design approach, more and more boat builders are looking to replace these materials with materials of biological origin. Basalt fiber is replacing fiberglass, recycled PET-based foams are replacing PVC, and recycled materials and FSC-certified wood are becoming increasingly popular. The goal? To offer boats with less environmental impact through the choice of construction materials!
3. Deconstruction and recycling of boats : the rise of the boat dismantling industry
Until recently, it was not uncommon in marinas to see boats abandoned by their owners as wrecks. Nowadays, owners are increasingly obliged to remove their wrecks from the water, so that they can be recycled. In this sense, marine industry are strongly encouraged to set up channels for the deconstruction of their boats.

Recycling is a complex process, as it requires the removal of all polluting materials: fluids, engine oils, fuel, batteries, etc. But legislation is becoming increasingly restrictive on this subject and the channels are being organized accordingly.
Towards a better management of electronic waste
The WEEE directive, concerning the management and treatment of waste electrical and electronic equipment, has set the framework for manufacturers, thus opening the way to better recovery of this waste.

Ecological issues also require that we move towards frugal consumption of water and energy on a boat. In this respect, yachting professionals have a role to play in changing the attitudes of boaters and encouraging them to consume sensibly. Because it is only by acting at all levels that it will be possible to limit the impact of boating on the environment. The future will be green or not!

Discover our range of battery chargers