Sep 15, 2023
RV battery charger: how to choose it?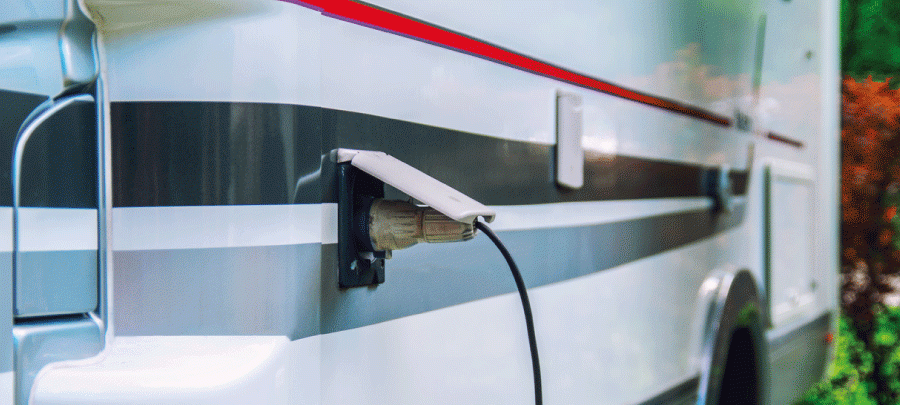 Space is essential in a motor home. As space is very limited and not expandable it is important to take into account the size and weight of all equipment. On board these leisure vehicles, it is necessary to have the most compact and quietest devices possible, noisy fan can really be uncomfortable and affect the comfort of users. Moreover, the need for more power is more and more important in order to reduce your charging time. For all these reasons, the choice of the battery charger for a RV that will be used to connect to a 220V socket is essential. Here is our advice to make the best decision.
RV battery charger: what are the issues?
To choose the right campervan battery charger, knowing what's at stake is essential. Light and compact equipment, noise reduction, device autonomy... All these criteria must be considered to offer users a qualitative experience.
Compactness and weight
In an RV, space is limited and every element counts. Just as weight plays a crucial role with regard to regulations (at the risk of changing the vehicle's class), you must pay particular attention to the size of each element. For example, it is better to choose noiseless compact chargers, as they can be placed under a bunk or bench seat.
Autonomy
If for a long time the standard rating for a RV charger was between 12 and 15 amps, power requirements have evolved. Nowadays, with more electrical appliances , the trend is to install either larger batteries or lithium batteries.
Particularly powerful, lithium batteries make it possible to combine:
Lightweight: Lighter than AGM or lead-acid batteries, lithium batteries help to lighten the vehicle for equivalent capacity.
Storage density: Thanks to lithium-ion ferric phosphate-based technology, lithium batteries have a three times greater storage capacity than lead-acid batteries.
Durability: While most batteries rarely achieve more than 250 charge/discharge cycles, lithium can withstand up to 5,000 cycles. Moreover, unlike conventional batteries, which only use up to 50% of their capacity, lithium batteries can be discharged to 100%. These two features help to extend the life of this type of device.
Read also: Lithium batteries for motorhomes: good or bad idea?
However, very often the original charger of the RV is not sized to charge this type of batteries. Thus, dealers or OEM's may need to install 40, 60 or 80 A chargers, especially in the luxury range. Indeed, so that owners of motorhomes using lithium batteries do not need to stay connected to 220V for too long, they need bigger chargers that are well sized for the size of their batteries.
When it comes to choosing a battery charger, this means choosing a charger with a more power capacity than the one originally installed.

5 criteria to choose your RV battery charger
1. Select a compact and silent chargers, to face the specific challenges of motor homes.
To meet users' expectations, it is essential to select a compact enough to free up maximum vehicle space and silence to guarantee optimum travel comfort for users.
2. The power of the charger should be well sized with the capacity of the battery in Amperes/Hour.
As mentioned above, these two elements must be in adequacy to guarantee an optimal operation. It's important to correctly size the charger's power rating according to the campervan's battery capacity to avoid under or over-powering the unit. Undercharging can lead to excessive charging time, while overcharging can damage the battery. Therefore, choosing a charger capable of delivering a charge current compatible with the selected battery capacity is essential.
3. Make sure that the charger has the right charging profiles for the battery technology installed.
Depending on whether the batteries are gel, AGM or lithium, this has an impact, as not all chargers are compatible.
Each type of battery has its specific charging requirements. It would be best if you made sure that the charger you choose offers charging profiles adapted to the battery technology you're using, as using the wrong charger can shorten battery life and reduce its capacity.
4. Ensure that the charger is integrated with the vehicle's more comprehensive switching system.

To be up to date, you need connected products, so that all the information is displayed on the main vehicle control and management display or tablet. Indeed, modern motorhomes are increasingly equipped with home automation-type electronic management systems. A charger that can be easily integrated into the campervan's overall electronic control and management ecosystem is a real added value for the user. That's why we recommend products with communication capabilities, enabling the centralization of essential vehicle data and facilitating the vehicle's power supply management.
5. Invest for the long term.
Despite the need to save money, opting for a cheap charger is not advisable to keep costs down. They can damage the battery they charge and deteriorate more quickly, forcing you to invest in a new model. The right thing to do is to invest in equipment that is more expensive but often more profitable in the long term.


Expert in marine and special vehicle, Dolphin Charger has developed an INTEGRAL charger, perfectly matching the needs of RV's. Designed with OEM's, the INTEGRAL product combines 3 functions:
A charger 220 volts 15 amp
A dual output dc/dc booster 25 amp + 15 amp
A 250 watt MPPT solar panel regulator
Lead, AGM, gel, lithium... Compatible with several battery technologies, our INTEGRAL charger can be installed quickly and safely (integrated fuse protection), while offering an unequalled motor charge and a dual battery / fridge output unique on the market. Ultra-compact and lightweight, it can be mounted flat or vertically, and has an optional Lin & Bus Can - Bluetooth pre-equipment to meet your communication needs.
Want to know more? Discover our products!