Sep 30, 2019
You have a technical question ? We have your answer ! (FAQ)
Dolphin Charger has manufactured marine battery chargers since 1996, so we know what technical questions arise when purchasing, installing or using a boat battery charger or inverter, or any power supply unit onboard ships and vessels.

Since 1996, Dolphin Charger has manufactured and distributed tens of thousands (over 100.000 units, actually) of boat battery chargers and marine inverters. Our Client Service has been of assistance to hundreds of professional customers (distributors, marine electricians, ship builders…) and end-users (boat captains, pleasure boat owners…) such as yourself.

We have collated all their queries into a very hands-on « FAQ » for your own ease of use. This FAQ features questions and answers about « Sizing : chosing the right equipment » ; « Installation : mount and cabling » ; « Charging advices » ; and our « Warranty » policy.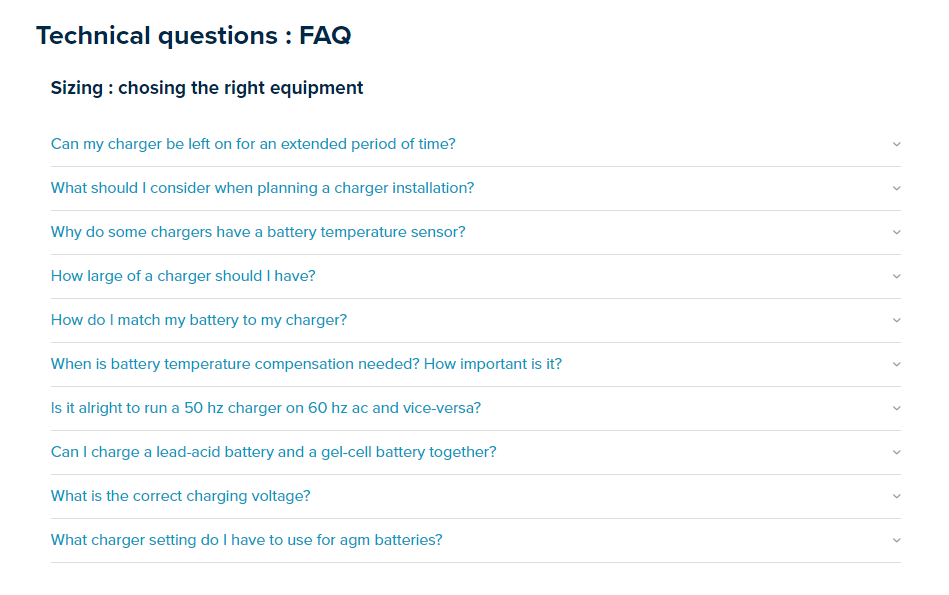 What is multi-stage charging?
What is microprocessor-controlled charging?
What is automatic charging?
What is maintain mode?
What is the correct charging voltage?
Is it alright to run a 50 hz charger on 60 hz ac and vice-versa?
How long will it take to charge my batteries?
Can my charger be left on for an extended period of time?
What should I consider when planning a charger installation?
Why do some chargers have a battery temperature sensor?
How large of a charger should I have?
How do I match my battery to my charger?
When is battery temperature compensation needed? How important is it?
Is it alright to run a 50 hz charger on 60 hz ac and vice-versa?
Can I charge a lead-acid battery and a gel-cell battery together?
What is the correct charging voltage?
What charger setting do I have to use for agm batteries?

If you have a technical question, we have your answer here. And if by any chance you should not find your answer here… well, then send us your question and we will make sure you receive the best, practical answer within the shortest possible delay. We love challenges !

PS : Of course, we always follow up on our products, and we never let our customers (pro or private) down when they need assistance. Should you need to find your user's manual (instruction manual, technical guide) for your (old or more recent) Dolphin Charger power unit, simply download it here! We have kept them all. Since 1996. For you!