Nov 27, 2018
Defence: three Dolphin Charger Models registered by NATO in 2018
ANNECY AREA (France), 27 November 2018. A worldwide specialist in power electronics, and particularly in marine battery chargers, the Dolphin Charger brand is proud to inform its customer base and global sales network and partners that it now enjoys a privileged position among NATO players in the Marine Defence Segment: "In 2018, three of our marine battery charger models received NATO Stock Numbers (NSN). Among them are of course two of our DNV-GL-certified products", says Nicolas Fata, Head of Export. "These power units are therefore now identified as standardized material items of supply recognized by all NATO countries including the US Department of Defence", he adds. "This level of trust among Naval Forces is a very strong proof of the robustness and reliability of our products." Dolphin Charger has been NATO-registered as a naval forces supplier since 2010 under NSPA codename FAMD1.
The following Dolphin Charger power products have received NATO Stock Numbers (NSN) recently (2018):
Dolphin PREMIUM 12v15amp (NSN 6130-14-593-2044)
Dolphin PRO HD+ 24v40amp DNV-GL (NSN 6130-14-593-2045)
Dolphin PRO HD+ 24v60amp DNV-GL (NSN 6130-14-593-2046)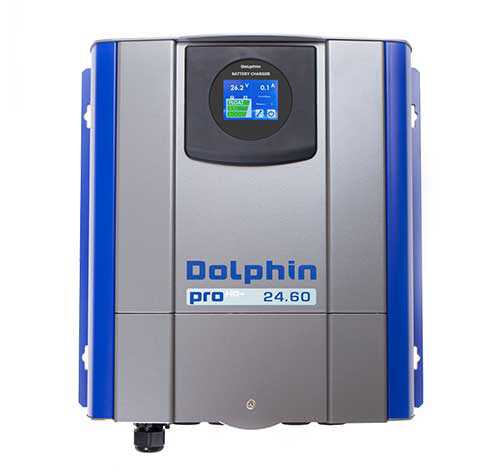 "Our DNV-GL power units are registered by NATO (NSN) and are ideal for Navy, Customs, Police and Coastguard interceptors and patrol boats. This is the reason why we were proud to show these models at the latest Euronaval tradeshow in Paris, in October, thanks to our French distributor, VDM-REYA", Nicolas Fata concludes. Held every other year at Paris-Le-Bourget Exhibition Center, Euronaval is the world's largest naval defence, maritime security and safety exhibition. It is organized by GICAN, the professional group representing the French marine industry (its members are involved in naval defence, maritime security, safety and environment, and commercial shipbuilding). Next edition will be held from 22-26 October 2020. More news on Euronaval? Check out their TV Channel here.
Dolphin Charger designs and manufactures DNV-GL battery chargers for super-heavy duty (HD+) applications in the most severe environments (heat, humidity, salt mist, vibrations, shocks…).
On top of our standard lines of chargers and batteries, we also offer semi-custom and full-custom power solutions to OEMs. And we are distributed worldwide. Check us out.