Oct 8, 2019
Dolphin's DNVGL Maritime Certification renewed until 2024
HOVIK (Norway), ANNECY (France) - 10 October 2019. Dolphin Charger's PRO HD+ Series of heavy-duty professional marine battery chargers has once again obtained DNV GL Maritime Type Approval for use onboard ships, offshore units, as well as high speed and light craft. «Electrical systems are essential for safety in shipping. This is why I am particularly proud to say to our professional customers worldwide that our PRO HD+ products comply with the very high quality and safety standards of DNV GL», says Alain Pontille, CEO of the Brand. The validity of Dolphin's DNVGL Certificate has been extended for a 5-year period, and now runs until 30 September 2024.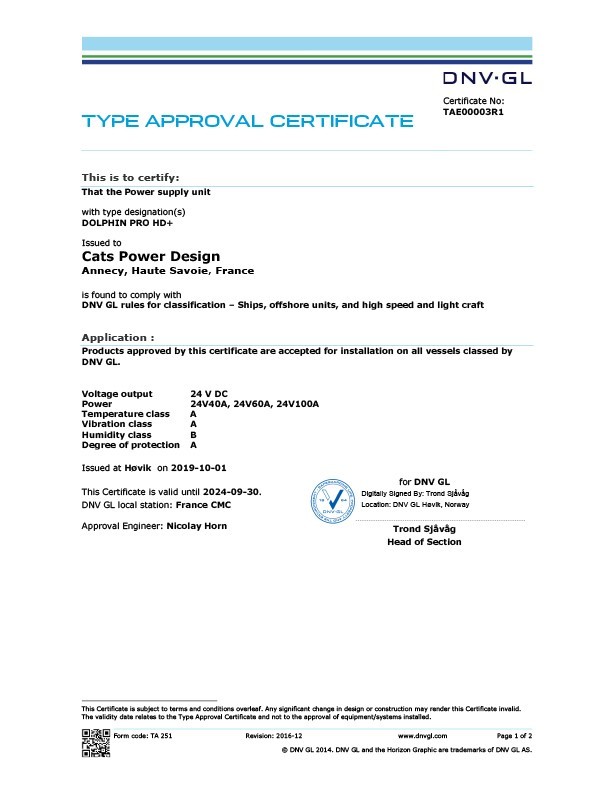 Severe testing
To obtain this certification, power units in the PRO HD+ Range have undergone a severe series of tests including Type tests in accordance with IEC 60335-1 & IEC 60335-2-29 ; Low temperature and Vibration tests in accordance with SfC No. 2.4 Class A ; Humidity and Damp heat tests in accordance with SfC No. 2.4 Class B ; and EMC in accordance with SfC No. 2.4 Class A.

High-Class Results
PRO HD+ marine chargers have received the following certification classes : Temperature class A ; Vibration class A ; Humidity class B ; and Degree of protection A.PRO HD+ marine chargers are available in 24V Voltage output with three DC Power values : 24V40A (115/230V), 24V60A (115/230V) and 24V100A (230V), says Nicolas Fata, Head of Sales.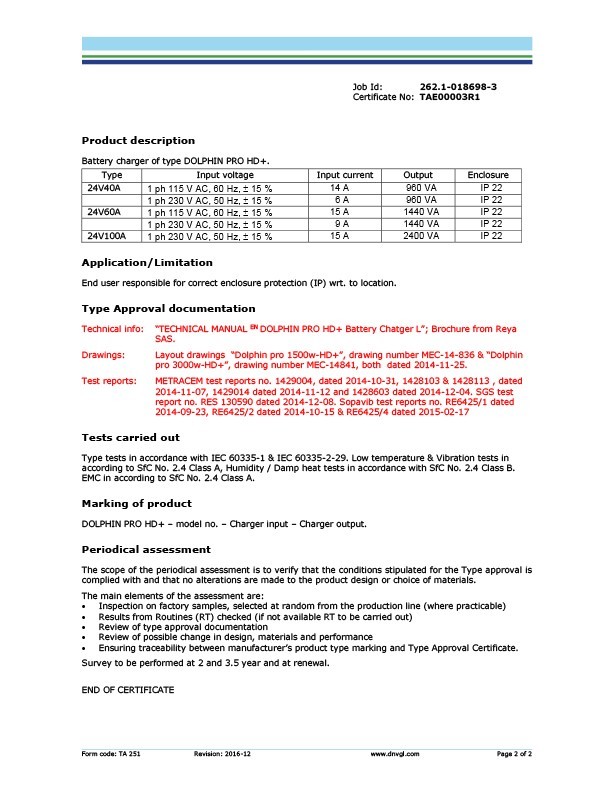 Since 2019, Dolphin Charger also distributes DNV-GL marine-type approved GEL and AGM batteries (up to 240Ah).

Components and systems used in the maritime industry need to meet high requirements for safety and reliability. This is the only way to safeguard people and assets and to protect the environment. DNV GL is the world's leading classification society and a recognized advisor for the maritime industry. DNV GL enhances safety, quality, energy efficiency and environmental performance of the global shipping industry – across all vessel types and offshore structures.