Nov 13, 2018
World Exclusive: introducing ProLite, the best compact charger on the market
AMSTERDAM (METS), 13 November 2018. You always wanted a silent, compact and waterproof charger. Oh… and smart, too? Here is the best you can get. Today in Amsterdam, Dolphin Charger has introduced ProLite, the most complete compact marine battery charger on the market. ProLite has it all. This new family of 12V marine chargers features super-compact, silent (fan-less), water-resistant (IP65) and ignition-protected (ISO 8846) products. "The 15A model is 40% smaller than most of its competitors. It is the perfect charger for small spaces", says Nicolas Fata, Head of Sales. "ISO 8846 protection against ignition of flammable gases makes it ideal in combination with outboard gasoline engines", he adds.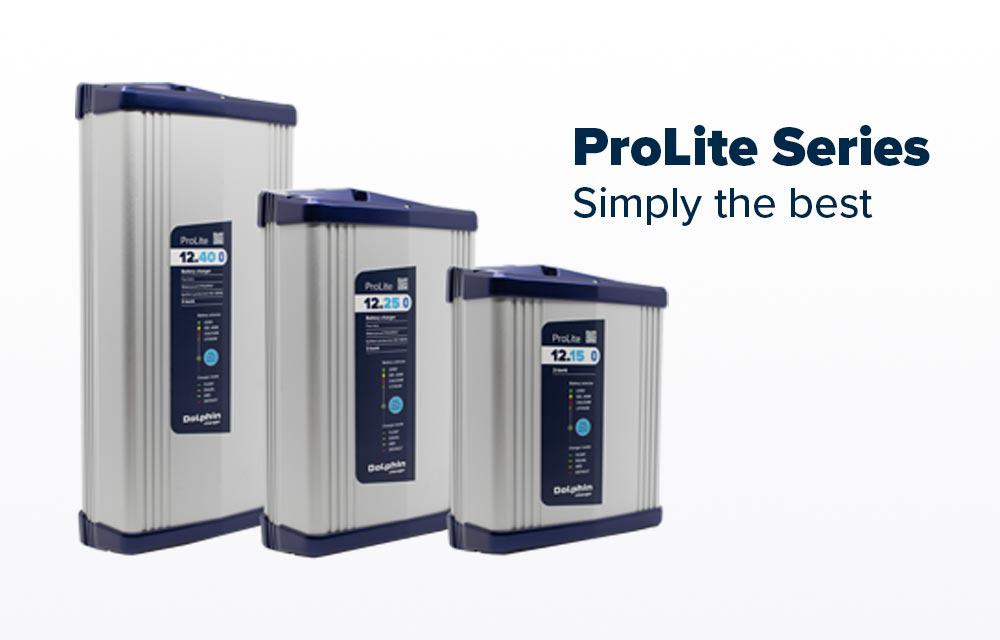 SuperSmart (featuring free App)
ProLite chargers are also smart, Bluetooth-inside products: thanks to our free App, you will be able to monitor your charger's performances live from any mobile device (iOS and Android). It is the very first App-friendly Dolphin unit.
"We wanted to please boat owners and builders from all over the world with a product which will meet all their needs and fulfill all their expectations. And our engineering team has made it happen", says Alain Pontille, the Brand's CEO.
With a power range extending from 15A to 40A, ProLite is your perfect choice for sailboats, center console boats, sport fishing boats and other pleasure craft. "This new unit will be particularly welcome for the leisure marine market in northern Europe, in the US and Canada", says Nicolas Fata. ProLite is designed to meet all recreational marine activities requirements.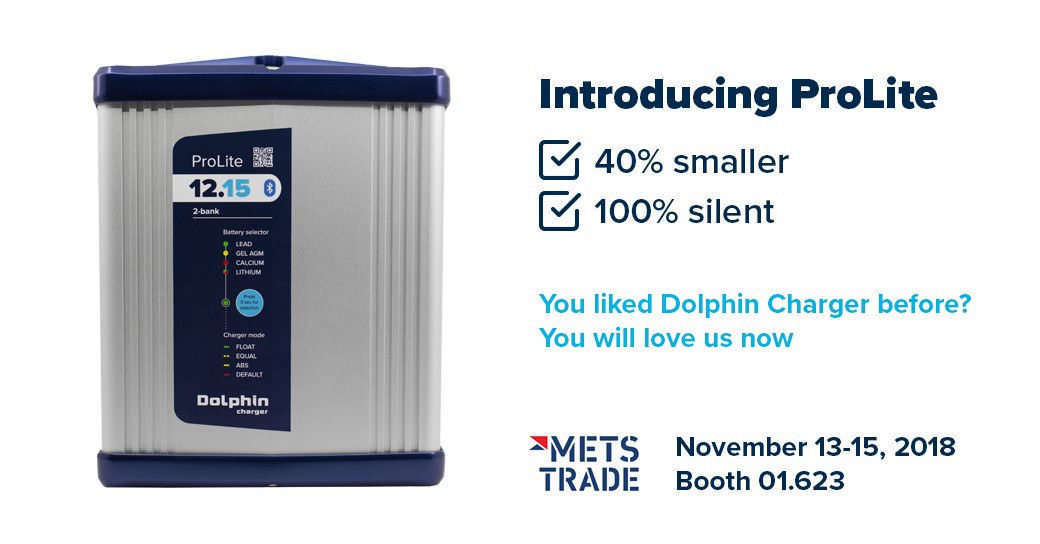 ProLite is 40% smaller than its predecessor and most of its competitors. It is also 50% lighter (1 kg/2.2lb only). ProLite is a no-brainer for all your outboard activities: it is totally dust-tight and protected against dripping water, spraying water and splashing water as well as against water jets (IP65). Yes, ProLite products are real Dolphins.
An OEM's dream come true
With its state-of-the-art circuit board, ProLite has also been designed to meet OEMs' specific requirements: it can be delivered with CANbus or NMEA interface as well as with an external temperature sensor, upon simple request (MOQ applies).
Here are ProLite's technical advantages in a row:
40% smaller
100% silent (fan-less)
Water-resistant (IP65)
Ignition-protected (ISO 8846)
Smart (Bluetooth inside)
Agile (free App included)
100% compatible (with any battery including Li-ion)
3-year warranty
OEM adaptive (NMEA-ready, CANbus-ready, external temperature sensor)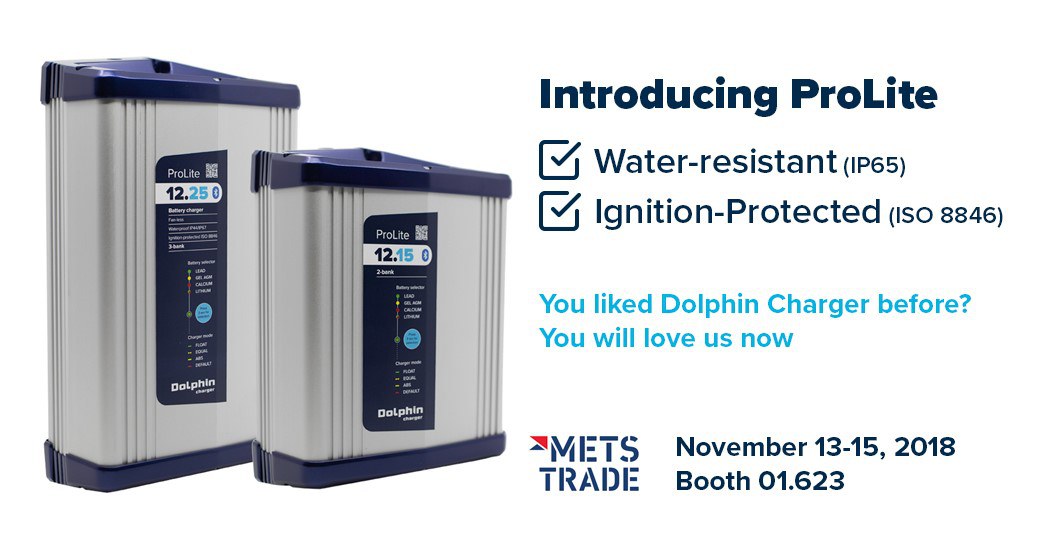 ProLite will be available in stores all over the world in 2019:
ProLite 15A (available Q2) in 115V and 230V
ProLite 25A (available Q2) in 230V
ProLite 40A (available Q3) in 230V
ProLite chargers are 100% compatible: they can be combined with any battery on the market including Lithium-ion.
You liked Dolphin Charger before? You will love us now.
DOLPHIN CHARGER started operations in 1995 near the shores of the Annecy Lake in the French Alps. It is a proud member of the Eight Lakes Group. The Eight Lakes Group (with headquarters in Breda/NL and Antwerp/BEL and companies in Belgium, Netherlands, France and Taiwan) is a trusted supplier of products and solutions for the industrial and professional markets with a turnover of EUR 80 M.
Dolphin Charger 2019: New ambitions, new products, new website, new catalogue